Congratulations! You were just approved for your merchant account and have received your login and activated your Authorize.net account …now what?
Well, a good first step is to turn on your AVS (Address Verification Service) and CVV (Card Code) security settings. AVS settings will verify the house number and the zip code entered by the customer against the billing address of the credit card. The CVV is just the three or four digit code located on the back of the card. These fraud prevention measures are important because they help lower the risk of fraudulent transactions and can help lower your rates.
Once logged into Authorize.net you will see a list of tabs on top of the page:



You'll click on the tab marked 'Account'. You are then given a list of settings options on the page. Under 'Security Settings' you can click on both 'Card Code Verification' and 'Address Verification Service'. Let's start with 'Card Code Verification':
Step one will be to enable this filter by checking the box at the top of the page:



Step Two will be to choose the settings you would like to activate:



Authorize.net will allow you to hold transactions and review them with your customer in the event the CVV doesn't match or is excluded from the information. It is also up to you as to how stringent you'd like to be with your CVV settings. I would advise having one of these settings turned on.
For the AVS filter your security settings look like this: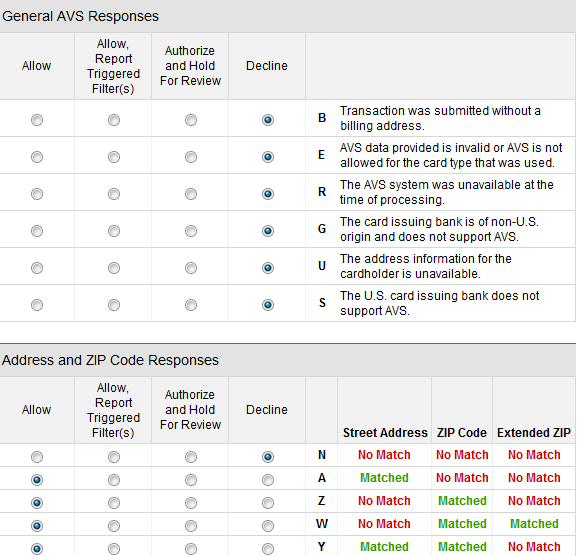 Again, you must enable the filter at the top of the page to turn on the AVS settings. Next, you can set general AVS settings as well as specific AVS settings for address, zip code, and extended zip. With these settings, Authorize.net gives you tips on different response codes and what might be best for you. Again, I would advise have some type of AVS security setting turned on for your account.
Protection against fraud starts with you. Never be afraid to scrutinize transactions! Always carefully consider your business' level of risk when configuring your CVV and AVS filter settings. If you have any questions, feel free to ask them in our Merchant Plus Forum or give us a call, 1-800-324-1997. Authorize.net also has video tutorials to walk you through this setup process here.
Have Navigate as a gateway? Look at how to turn on AVS and CVV settings here .