We make having the right merchant account easy
Get Started
MerchantPlus is updating its Windows Phone Mobile app to support WP8.  The fully rebuilt application will feature a virtual credit card terminal to quickly and easily key enter transactions while using your mobile device.  No special hardware is required, just enter your customer's information and charge a credit card instantly! Fully compatible with MerchantPlus' NaviGate virtual terminal.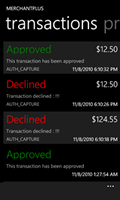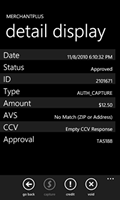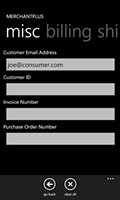 Easy setup process!
1
Apply for a merchant account
here
.
2
Once approved, download the MerchantPlus for WP7 app from the Windows Phone App Store
here
.
3
Begin accepting credit cards on your iPhone!
Features include:
Easy Setup
Low one-time app fee of just $15.00. No hidden fees!
Accept Visa, Mastercard, Discover, and American Express
Simple and intuitive user interface
Receive approvals instantly
Process transactions anywhere with cellular or wi-fi signal
Increased fraud prevention with AVS and CVV2/CVC/CID support
Sends transactions over a secure SSL channel
Stores transaction history; tracks charges and refunds
Ability to enter additional information, such as shipping data
Rate
 

Industry

MerchantPlus

Visa/MC Discount

2.29% – 2.99%

2.15%

Transaction Fee

$0.30

0.25%

Monthly Fees

$10-$20

19.95%

iTakeCredit One-Time Fee

–

14.99%

Monthly Minimum

$25.00

NONE

Setup Fee

$99

FREE

Application Fee

$99

FREE

Annual Fee

$99 – $299

FREE
MerchantPlus

2.15%

$0.25

$29.95

$15.00

NONE

FREE

FREE

FREE